Last year I wrote about ESCAPISM.
Ten month later, I'm writing about leveraging escapism to maintain good mental health during the pandemic.
I constantly need to escape so I can de-stress. Being a divorced, single, working Mother with a chronic illness — it all falls on me. The stress and pressure is enormous. Recently, I was diagnosed with an extensive blood clot (DVT) and for at least three days after the diagnosis I started internally coming undone. I was in a heavy distressed state emotionally and mentally about the state of my health. I hate the constant and abysmal reminders about my mortality. As if Sarcoidosis wasn't enough to deal with, my body just keeps giving me relentless reminders that it is tired and extremely weathered.
So I like to escape.
I escape through television, reading and music.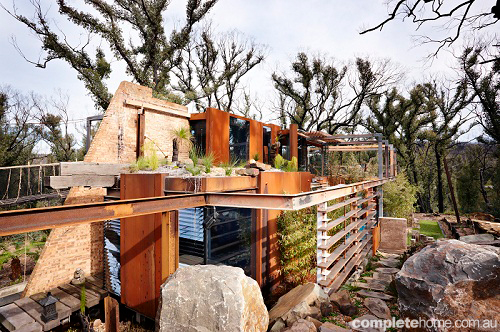 As of lately, Grand Designs Australia is my escapism program of choice. I had recently finished binge watching Baskets (which was brilliant by the way…) and then I decided I just needed to escape the constant calls to doctors, making of appointments, worrying about work and the challenges of parenting whilst being extremely sick. I just needed to feel human and comforted.
Originally, I refused to start watching Grand Designs Australia. I lived in the United Kingdom in my youth, so I was a purist dedicated to Grand Designs (UK). Also, I take great issue with Australia in general because of their mistreatment, continued genocide, and discrimination against the original people of Australia – the Aborigines. So for years, I refused to watch the show. Then something happened early on in the pandemic — I was escapism watched all of the episodes of Grand Designs (UK). I finished them all. Yikes!!!! What to do, what to do, what to do??? I had to bite the bullet and put Grand Designs Australia on my watch list.
So, I'm over here in season 2 on episode 7. SMDH.
Perhaps you are asking why? Why is this my escapism television choice?
Simple — I long for what I already had because it feels safe and I long to build a different life where I'm not chronically ill, stressed, financially constrained, and unsure about the future. … Okay, maybe that's not so simple.
Late last year I read "Why do we watch the same films and tv shows over and over again?" In the article the author wrote: This means that re-watching something is basically a simple way of controlling your emotions when they get a bit out of range. It can become really therapeutic, especially if you're feeling anxious. Psychologist Pamela Rutledge confirms this as she explains that watching the same entertainment piece multiple times reaffirms that there is order in the world and that it 'can create a sense of safety and comfort on a primal level.
While Grand Designs Australia is actually all new to me, it's the concept of the show that brings me comfort. And yes, I've watched episodes of Grand Designs (UK) on repeat. I also find them therapeutic and comforting.
I watch the shows because at one time I was married and we built things together. We were able to outline a goal and then work as a team. I think perhaps it is the only time I ever worked as team with a partner or lover. I've always had men compete with me or completely dismiss me. For those who dismissed me I was only ever good for making them look good and being objectified. So I'm always hopeful, joyous, and inspired when I see various partners working together on the big vision of their "forever home" and then bringing that vision to life.
The more complex the design, the greater the potential hardship they may endure and they seem to weather it all together. I often wonder how many couples are weathering the storm together and it reminds me that I haven't weathered any storms with anyone. I think it also reminds me that I have achieved peace and joy in my life without being coupled and that partnering is about being "whole" first before entering into a partnership.
The location escapism is always there. Sometimes I miss England A LOT. I don't know why because my 3+ years in the United Kingdom were fraught with hardship and unsure times, but still I miss those moments where I was at peace in Blighty. There were times I went on small adventures on the way home from work, by myself, and the beauty of the "Old World" was never lost on me. I adored it. Then there is the fact that I've always been curious about Australia. I'd love to visit Australia, but I want to visit with the Aborigines or Black ex-pats. I'm super curious about their experience in the country given it's violent and horrible history. In Grand Design Australia, I find the locations really intriguing and beautiful. There is water, beaches, bush, it all seems surreal. I sometimes think about what is the American equivalent and would I be safe retiring there. It's an entire overthink for me — every episode — but I love it because it gives me a break from whatever stresses I have to deal with in the NOW.
Then the design. I love, love, love … did I say love… architecture. I always have, because I used to sketch and draw. Growing up in Chicago, I adored the Frank Lloyd Wright homes. I love the designs of the traditional Chicago bungalows on the South Side. Seeing the different designs brings me great joy. I like seeing how creative the couples are with the spaces and of course with their vast wades of money.
Lastly, the reveal is always my favorite part. It reminds me of when I renovated my first house in Texas and then built my current house from the ground up. I leave each episode with an appreciation of the fact that I experienced that process and I have some beautiful features in my home that make me proud.
So in this pandemic, this is what I do. I pour a cranberry juice, then I log onto DailyMotion and I search for Grand Designs Australia. It's keeping me sane right now during this pandemic — as I nurse this massive DVT, high blood pressure and mounting worry about my other ailments.
What's your escape mechanism during this pandemic? And why?