CREATING.
INFLUENCE.
THROUGH.
CONTENT.
Join us this year at the Houston African-American Bloggers Association's 2017 Blog Bootcamp where we are discussing CREATING INFLUENCE THROUGH CONTENT. We will explore the convergence of content, influence and engagement through blogging, branding and building online communities.
Keynote Speaker: Tristen Sutton
He will be offering some empirical wisdom on BUILDING YOUR BRAND BY USING SOCIAL MEDIA.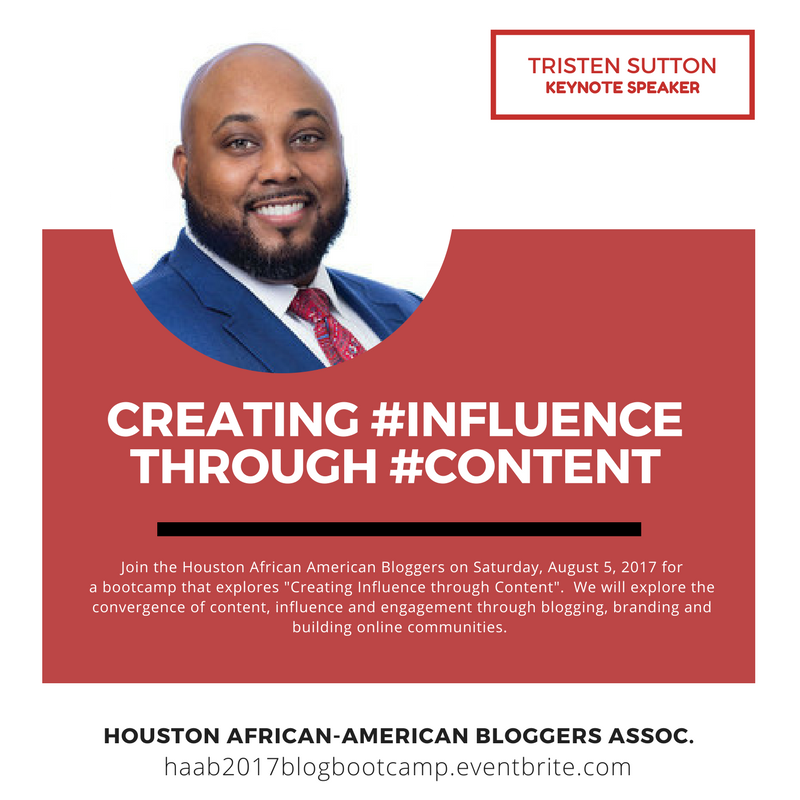 Distinguished Panelists:
Denise Hamilton, Watch Her Work
Garry Lee, The Technocrats & Sphere TV
Jonathan Davis, The Technocrats
These masterful content creators will be offering insight and tips on leveraging content curation and technology.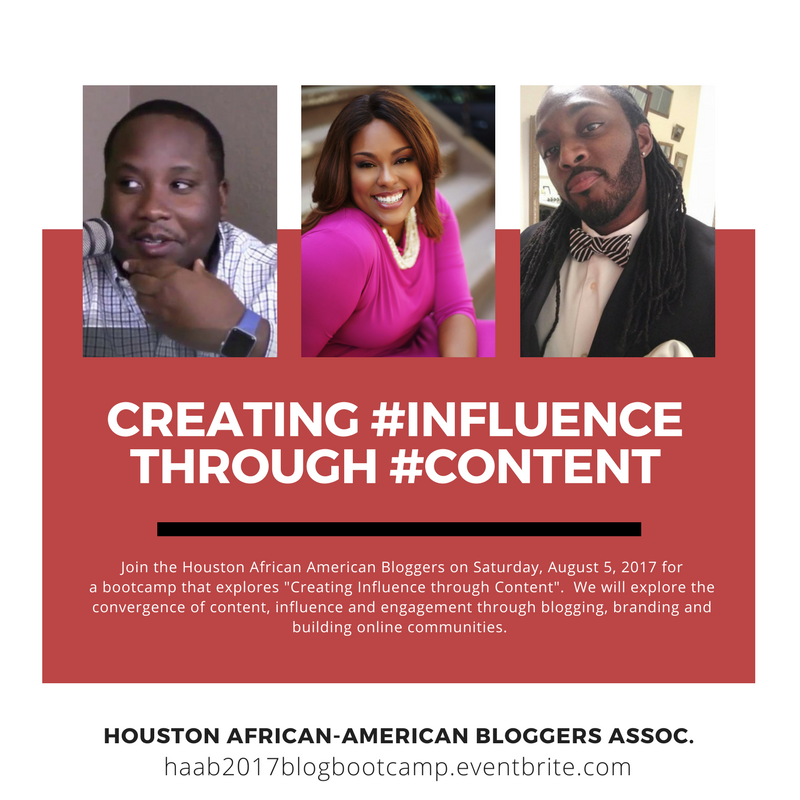 Houston African-American Bloggers Association want to help you to leverage your blog / brand while building your social media influence. Come and engage with Houston's premiere content creators and social media influencers as we share industry lessons, give tips and help you focus on increased profitability of your blog / brand.
You will be able to knowledge share with the local creatives and network within YOUR community.
The #HAAB 2017 Blog Bootcamp is open to anyone and everyone who considers themselves part of the online content creator and social media digital space. We are focused and committed to championing the skills, talents and experiences of African-American content creators who have diverse and empowering stories to tell.
All ethnicities, interest, ages, genders and levels of blogging knowledge are welcome to attend. Like the great city of Houston, #HAAB's circle of supports, creators and leadership has a "little bit of something" for everyone to share!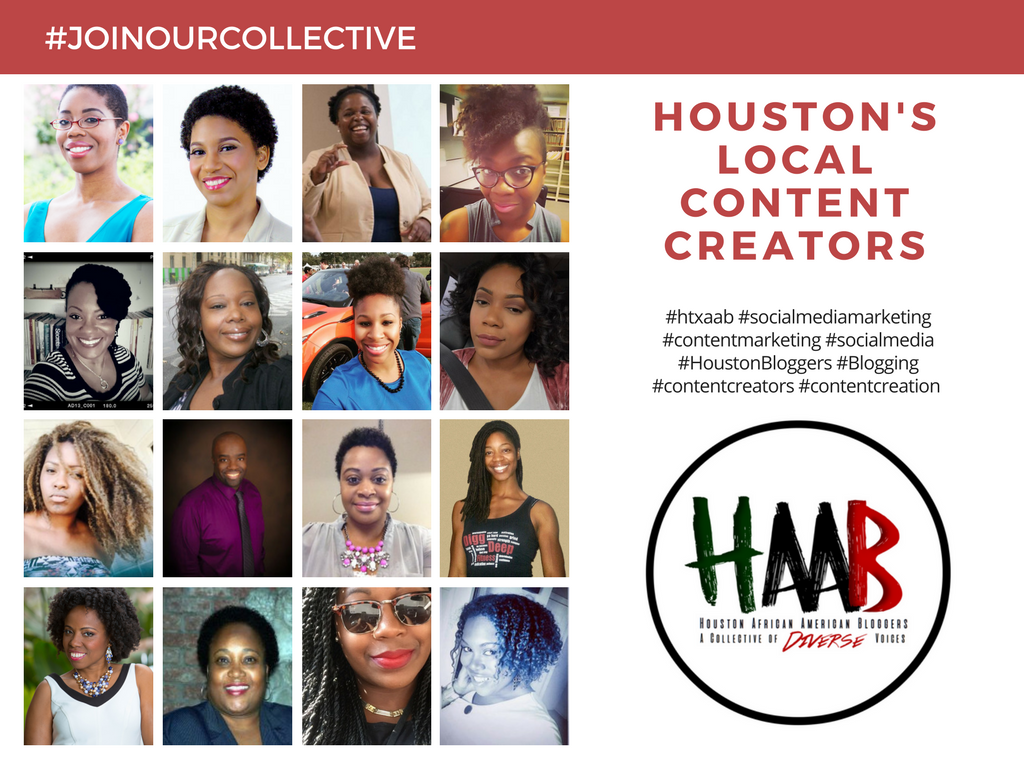 ---
Bootcamp Schedule:
9:30am-10:00am: Doors Open/Networking & Breakfast
10:00am-10:15am: Welcome & Opening Remarks by Bootcamp Emcee Tishea Davis-Hackamack
10:15am-11:00am: Opening Keynote: Tristen Sutton
11:00am-11:10am: Break
11:10am-11:50am: Juan Influencer Marketing: Rules of Engagement (Workshop)
11:50am-12:00pm: Sponsor 1
12:00pm-12:30pm: Panel: The Future of Your Blog (Lunch)
12:30pm-12:40pm: Break
12:50pm-1:20pm: Panel: Leveraging Content Curation & Technology Moderated by Andrea Brown
1:20pm-1:30pm: Break
1:30pm-2:00pm:HAAB Leadership Success Stories
*Schedule subject to change.
The #HAAB 2017 Blog Bootcamp is made possible by the generous and kind sponsors who value the voices and stories of the Houston African-American Community. If you would like to learn more about becoming a #HAAB 2017 Blog Bootcamp sponsor view our Sponsorship Opportunities – or you can feel free to send an email to hello@houstonafricanamericanbloggers.com.
Hope to see you there! Be there or be square!
#socialmedia #bloggers #bloggingwhilebrown #HoustonBloggers #content #creative #influencer